The Porn Brain Rewire Method
Your success is important to us.
We holistically address the root cause of problematic porn use.
Leaving porn behind for good can be complex.
The way you use your mind and body, your relationships, environment, and personality — all of you— matters in your porn brain reboot. We use education, clear, decisive action steps, and personalized support to help you accomplish your recovery goals.
It's a Brain Thing - The Difference Maker in Our Program
Problematic porn use is a brain dysregulation problem.
You will have access to the most powerful, scientifically proven, technology to re-wire your brain itself. You will learn how to use it from Dr. Trish Leigh, board-certified Neurofeedback practitioner and Neurofeedback Expert consultant. You will have top-level tools with top-level guidance.  
Schedule a 15 min Private Q&A session with Jamie Watson, Liaison to Dr. Leigh, to get the answers you need.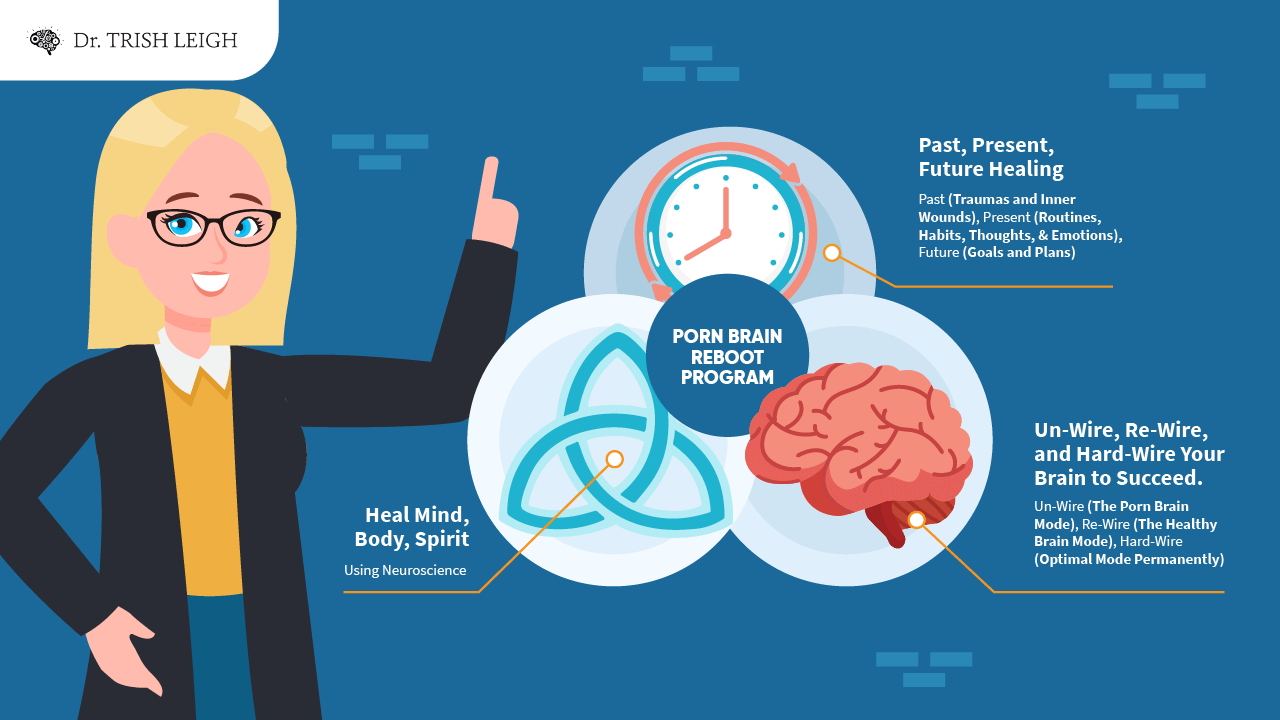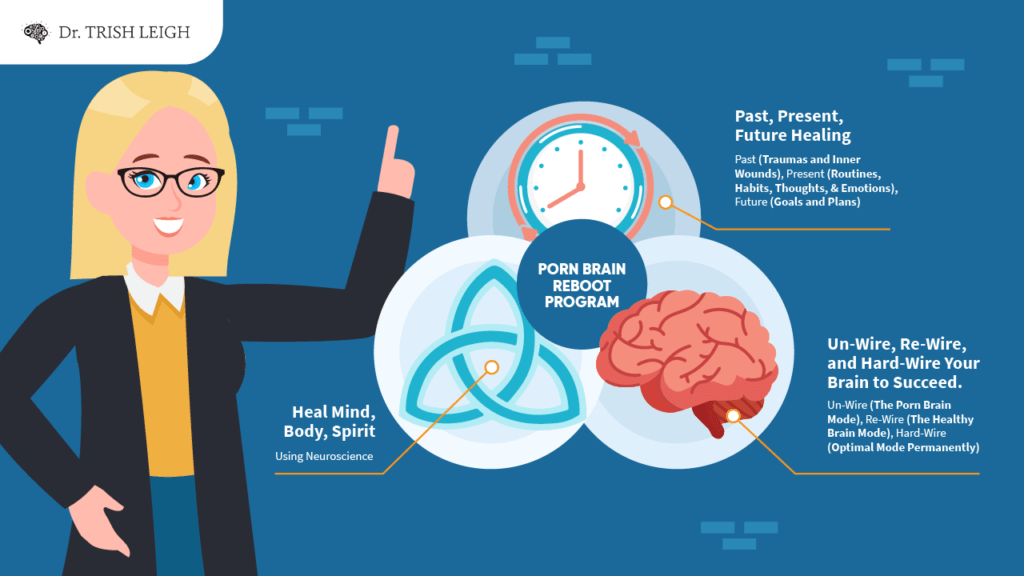 The Three 3's for Lasting Success
Our approach integrates the three crucial aspects in three fundamental areas for long-term lasting success. We call it "The Three 3's".
We help you:
(1) un-wire, re-wire, and hard-wire your brain to integrate your
(2) mind, body, and spirit by
(3) resolving the past, rebooting the present, and setting aim toward the future. 
You will learn theory and practical actions steps to take immediately. This comprehensive approach will help you leave porn behind and create a life you love. You won't want to escape into porn ever again. By doing this, you will heal your brain from porn use. The best part is that it is all proven effective by neuroscience.
Un-Wire / Re-Wire / Hard-Wire
Our method addresses the root causes of problematic porn use: the past, the present, and the future.

Un-Wire the Past
First, you will un-wire the rigid brain pattern that you are stuck in from past traumas and experiences. This brain pattern needs to be calmed and stimulated by porn to feel OK. Once healed, it is easier to makes changes to help your situation.

Re-Wire in the Present
With greater neuroplasticity in your brain, it becomes easier to change and improve. We use a top-down / bottom-up approach to re-wire your brain to work better, helping you feel and perform better, too.

Brain training with state-of-the-art technology re-wires your brain to be clam and focused. Rebooting your routines, thoughts, feelings and behaviors continually re-wires your brain to stay healthy.

This makes it easier and faster to leave porn behind and to never need it again.

Hard-Wire for the Future
Setting goals, improving your personality type, and establishing dignity and integrity ensures future success in staying away from porn and staying on purpose in your life.
The PORN BRAIN REWIRE Program consists of scientifically proven methods that get to the root of your porn problem. We help you solve the issue from the inside out.

Neuroscience
Our program is structured in an intuitive, easy-to-use format. Organized content, with video-recorded lessons of Dr. Trish Leigh, will teach you the neuroscience behind the strategies that you can implement in your life immediately. Specific and deliberate techniques will help you gain traction and momentum early on.

Support
Dr. Trish Leigh and her team are here for you. Non-judgmental support and understanding, combined with top-level knowledge and skills, are at the heart of everything we do. From our carefully crafted program to motivation and inspiration given in our live support groups, we help you feel strong and confident along the journey. Individual Neuro-Coaching can provide you with more personalized support to help you accomplish your goals.

Action Steps
Strategies that incorporate the most recent scientific findings are presented, by Dr. Trish Leigh, with anecdotal stories to help you put them to use with ease. Knowing the "how" and "why" of your own recovery will help you heal your brain and not go back to porn.
The Neuro-Biopsychosocial Approach to Porn Recovery
The biopsychosocial model of addiction originates from a combination of genetic, social, environmental, and physiological factors.
In an advanced way, Dr. Trish Leigh adds the neurological components of healing to this traditional method for better results, faster and with less struggle. The Porn Brain Reboot program addresses each one of these aspects of your life to create a holistic and sustainable model of recovery.
We use the most effective, evidence-based frameworks to inform our program. Our proprietary method combines a unique mix of advanced therapeutic modalities that are clinically validated to be highly effective.
Neuro-Modulation Techniques
Neuro-Modulation is a growing area in healthcare that "alters nerve activity through targeted delivery of a stimulus". Our approach does not put anything into the brain, rather it teaches it to perform better through feedback of its performance. Addiction is shown to be a "brain disease". This method is proven highly effective for improving the underlying brain mechanism of addiction.
Brain Training
Awareness of your thoughts and feelings in the present moment improves decision making. and implementation of CBT strategies. Specific techniques for resetting the brain, using easy and flexible brain training technology, can help improve baseline brain performance and feelings of stress, anxiety, boredom, and overwhelm.

NOTE: Brain Training with technology is not mandatory for this program, but most people choose to include it.
Positive Psychology
Cultivating and creating new, positive thought processes to inform new choices and behaviors contributes to the efficacy of our approach. Discovering and creating calm, focused joy in your life helps to sustain a new, better brain performance pattern for lasting change.
Integrated Theory
Translating theory into practice has been shown to improve learning and outcomes. Our approach teaches the theory behind the strategies, so you know the "why" and "how" of change.
Cognitive-Behavioral Therapy (CBT)
CBT principles are used in our approach to help address problematic thoughts and feelings to overcome porn use. By finding connections between thoughts, feelings and actions it becomes easier to implement new routines and behaviors.
Meet Your Brain Reboot Support Team
Dr. Trish Leigh, Founder & Lead Instructor
Dr. Trish Leigh, Ph.D., BCN founded the Porn Brain Rewire Program after learning that porn is wreaking devastating effects on men and women around the world. When she tried to help someone dear to her overcome porn, it was a major challenge. Support that was holistic, built on neuroscience, and most of all that was non-shaming and effective, was hard to find.
Being Dr. Trish, she had to learn everything about porn, how it becomes addictive, and how to break its hold over people. After years of doing her own research, she built the Porn Brain Rewire Program and has been helping thousands of people around the world ever since. 
Dr. Trish is the lead instructor at Porn Brain Rewire and is dedicated to helping as many people as possible claim their own power, improve their brains, change their lives, and leave porn behind for good.  Want to learn more about Dr. Trish Leigh? Read about her credentials.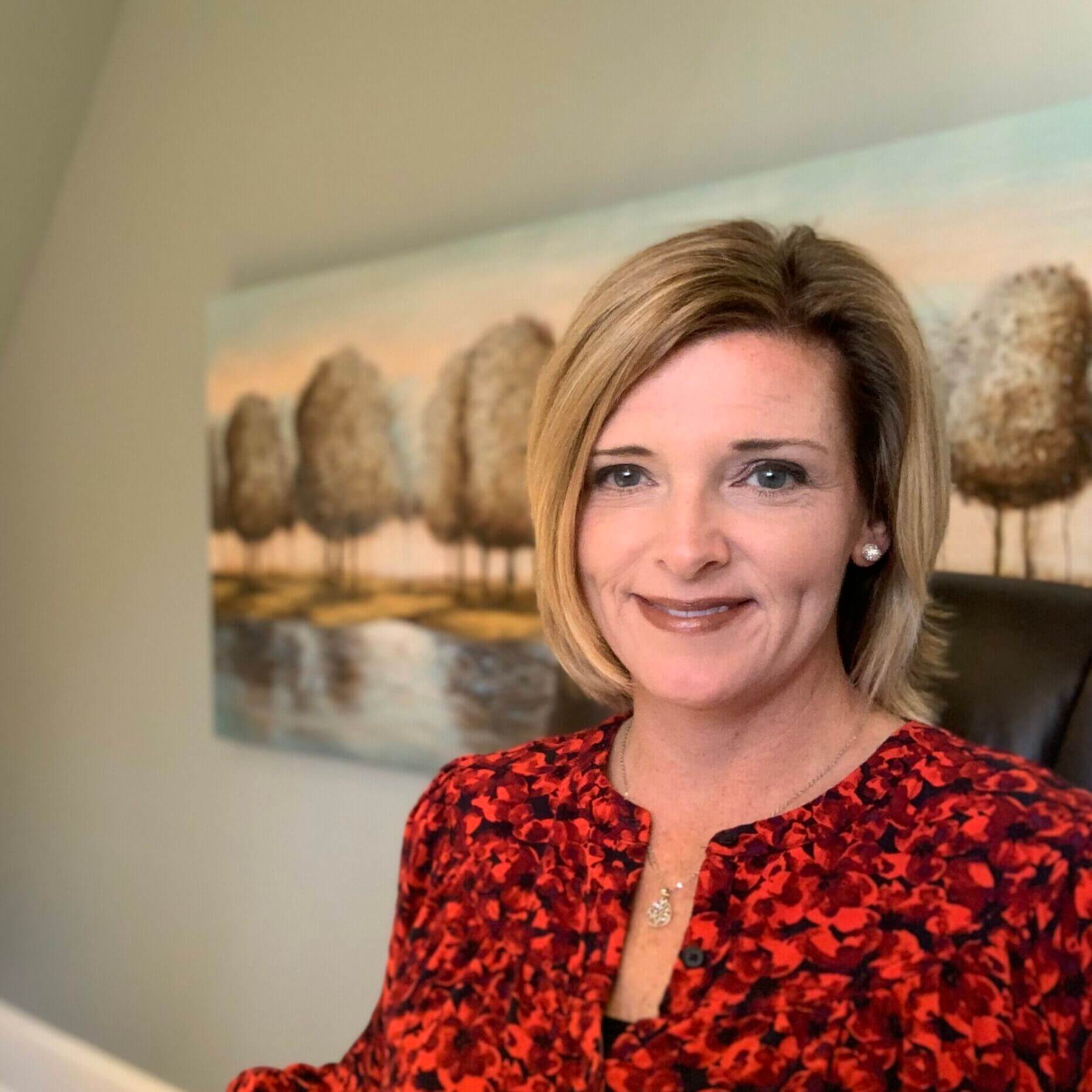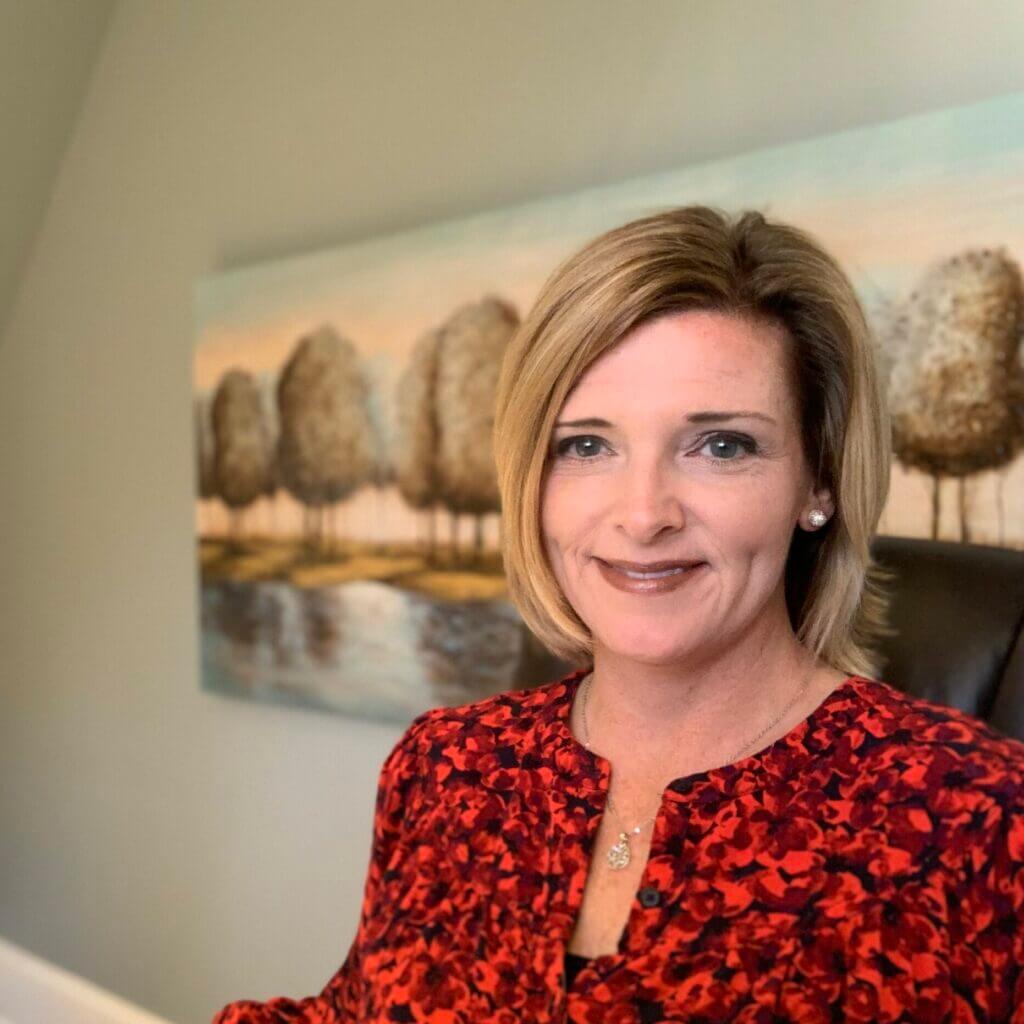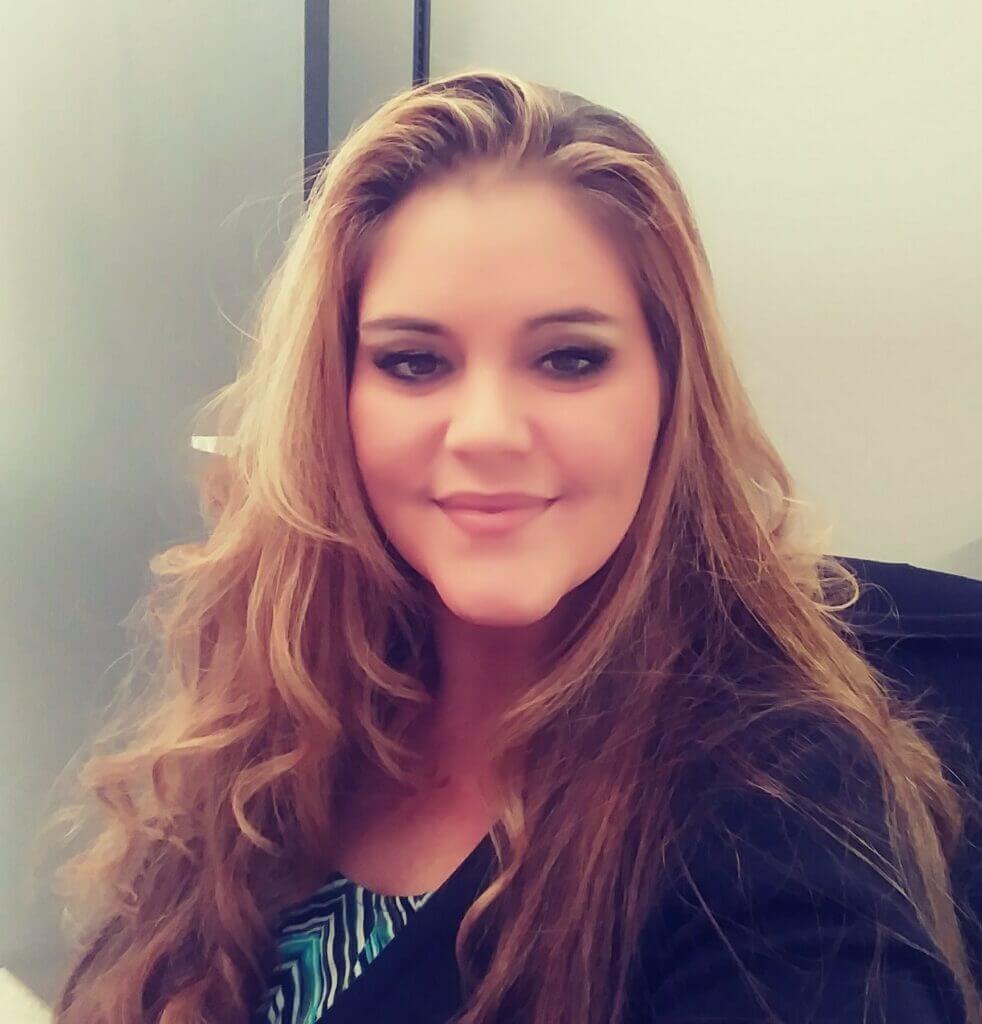 Jamie Watson, Executive Assistant to Dr. Trish Leigh
Jamie joined the Porn Brain Rewire team after many years of serving people in all areas and types of addiction recovery. After moving to North Carolina from Virginia, she became a major contributor to the mental health field in her area. With a family history of addiction and recovery, Jamie understands the struggle that people experience and the impact that it has on families. With a strong personal interest in personal development, Jamie encompasses the empathy, understanding, and fortitude that is essential for helping people quit porn and reach their full potential.